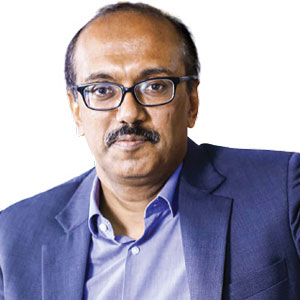 P.R.Venketrama Raja, Founder, Mentor and Innovator in Chief (Chairman)
"We cannot solve our problems with the same thinking we used when we created them" -Albert Einstein
Businesses have been undergoing significant transformational changes as big as employing robots to perform repetitive tasks. However, the HR department within an organization is still pedaling slowly towards adopting these technological advancements. In fact, numerous HR departments are caught up in poor and sluggish systems that have no relevance in today's times of the modern state of the art technologies. The present HR department has to be armed with the right technological tools to carry out skill development, succession planning, competency mapping and create an organizational culture. Organizations need to take a new look at the core HR or steer a slew of end-to-end recruiting functions and to quickly find the right talent and build long-term relationships with current and potential employees at far lesser costs. Something that Ramco, a leader in multi-tenant cloud based enterprise software solutions, has already been delivering through its HCM solutions. Following the quote by Einstein, P.R.Venketrama Raja, Founder, Mentor and Innovator in Chief of Ramco, has brought a revolution in the HR space with the aim of redefining employee experience onboard as the core of Ramco HCM. Today, the company relentlessly works towards automating traditional HR transactions to maximize productivity across the enterprise.
A Complete Package for HR Professionals
With Ramco HCM in place, organizations can position employees at the core of their businesses. The solution covers everything from recruitment to talent management to payroll and analytics. Ramco HCM's recruitment module is responsible for finding the right talent in response to the staffing requirements of the clients. With Ramco's HCM module, clients can easily solve the challenge of matching skills availability with demand. Clients can benefit from processes such as competency maps, time management, multiple employee assignments, and training to use a framework of logically linked processes to bridge the gap between demand and supply of skilled human resources. Using the recruitment module, clients can communicate with numerous recruitment agencies to shortlist the right candidates and set up interviews. To ease the process, the solution offers intuitive interfaces to enable recruitment planning and generation of call letters. Further, clients can get accurate reports on recruitment cycle time, cost, hit ratio upon demand.
Once the employees are hired, it is important to ensure new joiners get the best environment to work to maximize productivity and sustain talent. As an integral function of Ramco HCM, talent management functions can easily be carried out. The solution splits the function into three parts—objectives-based assessment, 360-degree appraisals, and potential appraisals.
With Ramco HCM in place, organizations can position employees at the core of their businesses
These capabilities allow clients to dynamically organize their global workforce, assess them on various parameters and reward them based on performance. The goal of Ramco HCM's talent management is to improve employee productivity, in turn, boosting the organization's revenue. Ramco HCM also looks after employees' end-to-end training and development process from maintaining courses and programs to maintaining the training calendar, recording participant assessment, and participant feedback. The platform intelligently identifies training needs by matching job requirements with an employee's competencies and analyzing qualification and skill-set gaps.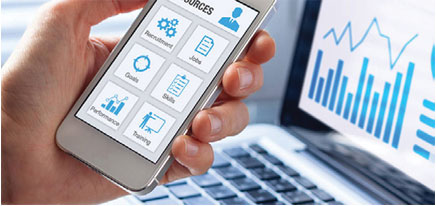 To track the attendance of employees, Ramco offers time and attendance solutions that also provide clients the option to record GPS based time to authenticate and interact with employees at various levels. Clients can easily visualize employee availability across various locations and offices. The solution also covers leave management functionality allowing employees to holistically maintain leave data, apply for leave and get approvals for the same. Once the employee data is recorded, Ramco HCM enables clients to process payroll to give the right pay at the right time. The solution relieves the HR teams from payroll updates in terms of tax and regulatory changes by systematically managing the entire process.
Finally, Ramco HCM enables clients with planning and analyzing their human capital requirements to simplify the overall workforce management. The company's HCM solution does this through workforce planning, career planning, and succession planning. Ramco HCM helps define the growth pattern and opportunities for various employees. On the other hand, the solution enables organizations to select employees to succeed retiring based on their competencies. With the solution, talent managers can calibrate and evaluate both internal as well as external talent to employ and retain the best candidates for their organizations.
Guiding the Way to Implement Emerging Technologies
A testimony to Ramco HCM's stellar capabilities is Valiram, a leading fashion and luxury brand across Southeast Asia. The brand was looking for an integrated solution that could replace the hassles associated with disparate HRIS systems working in silos while offering a comprehensive view of employees across stores. Offering a single solution for all its needs, Ramco HCM integrated the HR functions of over 3500 employees of Valiram. Along with real-time actionable employee data visibility, the client was able to keep pace with disruptive technologies in enterprise applications with features like Mail It. Ramco HCM provided a complete, stable system for the fashion brand that eased the burden of reconfiguring production servers. "Ramco HCM with its simplified user interface and mobility features perfectly suited our business needs. Given the understanding Ramco exhibited in the Retail industry, its Multi-country Payroll capabilities and comprehensiveness of coverage, we were glad to choose them," explains Sujjath Ahmed, CIO of Valiram Group.
Throwing light on Ramco's recent launches, the company has developed Single Touch Payroll (STP), an Australian Tax office initiative that requires employers with 20 or more workers to report salaries each time they pay them. STP will provide an improved and convenient manner for employers to report payroll information after every "payroll event" instead of reporting their tax payable on a monthly, quarterly or yearly basis. Scripting similar innovations, Ramco is set to touch new peaks with its unmatched expertise and skills.