Why Your CHRO Should Be Your Best Mate!
By Sunil Puri, Asia Pacific Head of Research, Innovation and Product Development, Center for Creative Leadershi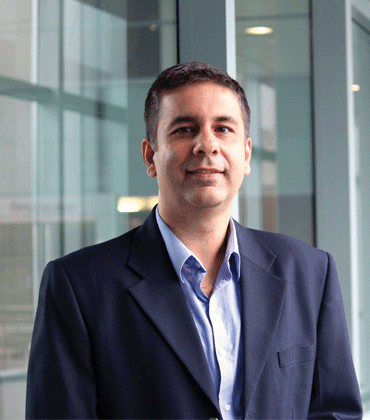 Sunil Puri, Asia Pacific Head of Research, Innovation and Product Development, Center for Creative Leadershi
When was the last time you [CIO] had lunch with your head of HR? If the answer is "a while ago," you should be worried! With similar priorities – boosting productivity, driving employee and customer excellence; and stall points – lack of budgets, pressure to demonstrate RoI, ever-changing business partnership expectations –CIO and CHRO roles are destined to be joined at the hip.
Here are four reasons why CIOs should spend more time with their CHROs:
I. HR and IT worlds are more intertwined than ever before
IT and HR being key departments in any business, a lot of what CIOs and CHROs do directly impact their organizations' bottom line. Heads of HR need to keep their ears close to the ground on employee engagement and motivation, directly impacting efficiency and turnover. Heads of IT need to provide the right set of tools to employees to make them more productive.
In the past decade, the world of HR and IT has converged further. Availability of appropriate technology has become a key motivation driver for employees, especially millennials. The trend around tele-commuting has intensified this hunger for better technology. On the flip side, HR is competing with other businesses as a key technology consumer. The era of HR plug-and-play applications, cloud computing, and analytics is making this trend even deeper.
Therefore there is a need for constant touchpoints between the CHRO and the CIO, often using the end-user, the millennial, and the mobile staff, as common points of reference.
II. Future of IT and HR departments pivots around stakeholder experience
The CIOs world has always centred on stakeholder experience, both internal employee and external customer. So terms such as user-experience, service-level agreements, are not alien to him. Interestingly, according to the recent Center for Creative Leadership (CCL) research, the CHROs traditional 'process champion' role is gradually evolving into the CEEO role - Chief Employee Experience Officer. Businesses are expecting CHROs and their departments to own employee life-cycle, both from efficiency and experience standpoints.
The conversations between CIOs and CHROs therefore need to centre around employee experience that both departments want to deliver.
CHROs and CIOs must apprise each other of their objectives to enable identification and rollout of ideal set of digital tools for end-users
Both HR and IT must lean on each other as employees, more than ever before, are interacting with tools and technologies throughout their day. Such experiences often define not only their happiness with the organizations' technology stack but also over all motivation and engagement, and satisfaction with the organization.
CHROs and CIOs must apprise each other of their mandate and objectives in order to enable identification and rollout of ideal set of digital tools for end-users to boost their overall experience, productivity, and grow the business. In an ideal state, the CIO and CHRO can help each other identify changes in employee work patterns that may require tweaking of HR and/or IT policies, processes or systems.
III. CIOs and CHROs need to wear similar hats to be futureready
While technology leaders help their organizations deploy technology as a competitive advantage, according to CCL research, next generation HR leaders must also have deeper skills in technology understanding and implementation, especially around available apps/tools as well as the best vendors. They both need to understand what is real and what is hype
Thanks to increasing regulatory compliance especially around cybersecurity, information protection, and privacy, both leaders need to be authorities in the (compliance) area. CIOs as well as CHROs need to play clever 'salespersons,' working with Boards, business heads, and peers to create compelling business cases to seek investment in newer technologies and latest employee initiatives. In addition, they both need to play astute 'service-brokers' as they think through service level commitments they need to make to their business departments. They further must get adept at staffing and managing high-performing teams to assure consistent and reliable delivery of services.
Finally, to further their careers, CIOs and CHROs must understand differentiators in their businesses, macroeconomic environment impacting their industries and organizations, and levers their businesses must press to grow their top lines.
IV. Businesses use similar yard sticks for both functions
While IT success is no longer measured just in availability, speed, and uptime; HR department's performance evaluation goes much beyond talent intervention deployments and employee engagement scores. Progressive organizations are evaluating both executives and their departments on additional factors such as RoI, scalability, collaboration, and resilience to meet business needs that may not be defined clearly. In most organizations, employee adoption rates and user experience determine the success of any IT or HR initiative.
Both leaders therefore need to collaborate effectively in order to ensure digital tools complement
HR policies
to drive adoption rates, security, and resilience. Net-net, CIOs and CHROs will need to work closely together to improve employee experiences around work processes and capabilities within the organisation. CIO's must combine their high level capability to design, deploy and maintain enterprise-class solutions with CHROs more granular talent understanding, in order to jointly drive greater business value.
Hopefully, these reasons are enough to reach out for your phone/computer to set up your next (lunch) meeting with the head of HR!
Established in 1970 and headquartered in Greensboro, United States, Center for Creative Leadership (CCL) is a global non-profit organization focused on leadership development and research. The firm enrols over 35,000 students each year over 130 countries and across 6 continents including offices in Singapore, India and China.