Keeping the 'Human' in Human Resources
By Ernest Phang, SVP & Head, HR Corporate Services, OCBC Bank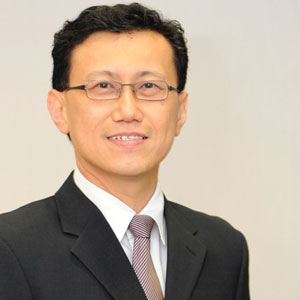 Ernest Phang, SVP & Head, HR Corporate Services, OCBC Bank
Whichever area or industry you're in, no one can avoid technology in this day and age. Terms such as data analytics, Artificial Intelligence (AI), digitalisation and Robotic Process Automation (RPA) are fast becoming the language used not just at work, but even in our daily lives. As a Human Resource practitioner for more than 20 years, I have seen first-hand how technology is changing the way HR department operates.
The role of HR has evolved and expanded with the emergence of technology. Traditionally,a significant share of time was spent carrying out transactional work such as hiring people, and managing payroll and benefits administrations, which were time consuming and mostly paper heavy. As data was in siloes and costly to collect, HR had to rely more on intuition and experience in decision making, rather than basing decisions on data. Some may think that technology and robots would take the 'human' touch out of Human Resources, but the reality is that we are actually becoming more 'human', especially in these three key areas.
We Understand Our People More
The role of HR in any organisation is multidimensional. Beyond just hiring people, it is our responsibility to engage, nurture talents, and retain them. Organisations need to leverage on human capital to address business challenges and achieve business objectives. To do so, we need to comprehend our employees better, and a good way to do this is through the application of data analytics.
At OCBC, we have a flexible benefits programme where employees get an 'x' sum of money every year which they can use to claim from a whole range of expenses such as medical bills, plane tickets and gym memberships. When we looked at what and how much all our employees spend on medical expenses, we unearthed some interesting insights. We found that there were segments of our employees displaying distinctive patterns of 'spending' behaviours. For example, our older employees were putting in more claims for their parents' medical expenses. So, what we did was to extend the medical coverage for parents of our employees.
With the younger employees, data showed that they were not utilising their medical outpatient benefits, so we allowed all employees to convert up to half of their medical outpatient benefits to flex dollars instead. The enhancements were well-received. More than 40 percent of our staff chose to convert their medical benefits to flex dollar and over half of them were under 35 years old. A third of our staff have also enrolled their parents to the medical benefits plan.
Employees must be prepared not just in terms of skillsets, but mindsets as well in this era of technology advancement
Without data, we would not have been able to uncover our employees' preferences and enhance the existing scheme.

We Train Our People More

Because the chief role of HR is to create an ecosystem where workforce is ready, competent and performing at its optimum potential, we strive to ensure that we are well-informed in the development in technology so that we can make the right decisions. We invest and use technology in a manner that enables us to be more efficient, productive and effective so that we can maintain, or even strengthen our relationship with our employees in terms of engagement.

It is crucial to identify the skillsets and tools that are required by our employees to thrive in any given situation, especially in this competitive environment where technology is constantly changing the landscape of the area we are operating in and as a result, jobs are being redesigned.

With new jobs of the future, we need to have learning platforms that enable us to scale up our training capacity. For example, we invest in a cloud learning management system and launched Campus On Cloud (COC). Through COC, 6,700 e-learning courses were made available to our colleagues not just in Singapore but China as well. This is on top of the 170 courses we conduct in classroom settings. COC enables us to extend learning beyond classroom and, as a result, change the way people learn. Our employees can now access courses anytime, anywhere. They can replay, repeat and even set up learning communities to help them communicate with their trainers or other colleagues on the subject matter. Overall, COC improved the learning experience of our employees and we have seen an increase of 41 percent on time spent learning online since its launch in early 2018.

Digitalisation and RPA have definitely enabled HR to be more productive. By deploying RPA in payslip extraction for instance, we managed to save 24 man-days per year. This enables our HR colleagues to be more efficient because they now have more time for value-added tasks such as spending more quality time to strengthen their relationships with our staff.

We Look Out for Our People, Even into the Future

Technology is changing jobs and our responsibility as HR is to prepare our people for jobs of the future. Employees must be prepared not just in terms of skillsets, but mindsets as well in this era of technology advancement.
In a recent study done by technology company, Cisco, and global forecasting firm, Oxford Economics, one-fifth of Singapore's workforce will have their jobs displaced by 2028, due to technological disruptions. Recognising the magnitude and impact of this, we took the initiative to develop and implement the Workforce Transformation Initiative (WTI) across the Bank. We identified the critical roles that will be impacted, and the competencies needed for our people to take on these future transformed roles. A framework was developed to ensure our people acquire such competencies as having a digital mindset, being agile to changes and possessing the ability to bring about innovation and continuous improvement, amongst others.

In May 2018, we launched a three-year $20million programme called the OCBC Future Smart Programme to equip our employees with digital competencies. The activities and contents for this programme are made available to our staff via Campus on Cloud. On top of that, we launched seven learning communities to provide more support to our employees for them to adapt to the changing landscape at work. We do this because we feel that it is our responsibility to continuously reskill and upskill our employees so that they continue to be relevant through the disruption brought by technology.

The advancement in technology is not slowing down in the foreseeable future and it is very important for everyone in the organisation, especially HR because of the role it plays in the organisation, to continue to adapt, evolve and strategically leverage on technology so that we can thrive in the ever-changing job landscape.
Check This Out: Top HCM Solution Companies in APAC