Is Inclusion & Diversity in Today's Corporate Environment Lip Service or Enabling Transformation?
By Sanjukta Sarkar, Director of Human Resources, UTC AEROSPACE SYSTEMS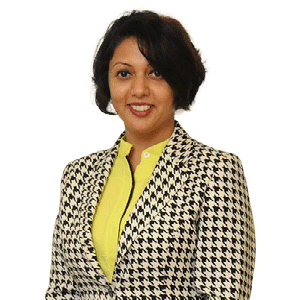 Sanjukta Sarkar, Director of Human Resources, UTC AEROSPACE SYSTEMS
With the #Metoo movement taking phenomenal proportions through the world, it is only appropriate that I write about a topic that I am personally passionate about—Inclusion and Gender Diversity. This is typically referred to, the other way around in most Organizations—Diversity & Inclusion— but Inclusion is primary. Only with an inclusive culture, can an organization can hire, nurture and perpetuate diversity within their company.
The business case for the need for inclusion and having a diverse workforce is well understood and often spoken about. So, I will delve deeper into things Corporates and HR Leadership can do to create a more inclusive culture.
Most Corporates have shown and probably embarked on the diversity journey in the recent past. There are women-specific training programs, women-specific hiring targets, classroom sessions on diversity and the list can go on. But are these enough? Are these resulting in concrete changes in our corporate environment or are we doing this just because it is the politically correct thing to do? With the #Metoo movement, many skeletons have come tumbling out of the closet and in many instances, it shows that the Human Resources function having fallen short of being able to effectively address, support or create a conducive culture. It is imperative, as a function, that we take responsibility for the culture we create within our Organizations and thereby the society, at large.
In a study published by McKinsey in Oct 2017 titled Women Matter – Time to accelerate, it was reported that Women represent more than 50 percent of the population worldwide but contribute only to 37 percent of the global GDP, and represent only 39 percent of the global labor force. India has the potential to bring 68 million more women into the non-farm labor force over the next decade. Recently I read an article published in The Tribune posted in May 2018 that India has one of the lowest female labor force participation rates (LFPR)—usually calculated as the share of women that are employed or are seeking work as a proportion of the working age female population—among the emerging market economies and developing nations. While slightly more women work in India than in Pakistan (27 per cent and 25 per cent, respectively), Pakistan's female labor-force participation rate is on the rise—as India's is deteriorating. You will be surprised to hear that despite three decades of GDP growth, the female LFPRs have not increased, but have actually fallen. Labor Bureau data indicates that women's LFPR stood at just 27.4 per cent in 2015-16.
So, how can we do things differently? Here are five questions which I want to leave with you as food for thought for all of us who are steering the Human resources function across Corporates and thereby having a collective vast influence on molding society, as a whole.
1. Do we go deeper into the society to create a change?
The seemingly massive problem of the lack of female participation needs to be examined from the grass root. We need to catch them young—the kind of education options women are choosing, for example, is stark in the way that there are various fields of work where the supply is simply too low to enable equal representation.
STEM fields, media, telecom, energy sector are just some of the areas you will see the dearth in. Corporate India needs to launch a massive exercise to educate youngsters at the high school level to enable them to see varied education and thereby career opportunities in the country. Despite the information explosion in today's world, students do not have the relevant and sometimes completely correct picture of the options and thereby, reliance on peers, friends and the limited knowledge of their social system serves as the only way to determine careers.

2. Do we have the right people to hire for the Company? More often we talk about hiring the right talent. Do we ever pause to examine who is being assigned the responsibility of bringing the talent in? Who are the staffing specialists, hiring managers, leadership who make the first impression on candidates? We need to examine our internal talent capability to assess objectively the talent that comes in, in order to be able to create a wide pool within the Company. Often, we hire someone who is a replica of us and that's the dangerous pitfall an organization falls into which only begets lack of inclusion for people who are "unlike us". Do we identify hiring managers simply because of their technical skills or their underlying values and demonstrated culture championship, which will then enable us to get the right people in? Ask yourself this: All else being equal, would the hiring manager choose a man or a woman?

3. Do we include everyone in the discussion? There are a lot of affinity networks in most organizations. These are important as people with the same challenges get a platform to be heard, share and feel unconstrained. But what most of us end up doing is restricting conversations only within the network. Most Companies have women leaders make time to address a room full of women. At the end of that discussion, everyone leaves, maybe inspired but mostly feeling happier that they are not the only ones with the same struggles. But what of the vast majority of men who have been excluded from this conversation? They do not have any idea how to be sensitive, manage, support or even know about matters that others might find a hindrance. So, it is not just necessary but it is the only way to make it work—Include everyone in the discussion.

4. Do we consider strategy as the single most important Leadership lever? Most leadership programs focus on strategy, executive presence, influencing and networking and these rank far higher than creating a culture champion, values role model, a creator rather than an influencer. Our language in the Corporate world has to change, we need to demonstrate that we value the softer aspects of inclusion as much as the bottom-line else it will be hard to make the shift. Can we start with what we know best—goal setting— do we have the same weightage and focus on values & culture building as we do for target achievement? If we do (which is a great start by itself), do we measure it with equal seriousness, objectivity and visible examples that we do the other part of this very important exercise? Do we then go on to glorify & celebrate culture champions as vigorously as we would, a closure of a significant deal? Leadership belief, focus and drive is key to being successful in this area – it requires a total mind set shift.

5. Do we play a part in enabling men to participate at home? Again, as per the report by McKinsey, "double-burden" syndrome is what increasingly prevents women from entering and then sustaining their career and growth through the years. Women still do a disproportionate amount of housework, and child and elder care (i.e., unpaid work). According to 2015 report by the McKinsey Global Institute, time spent in unpaid work is a critical issue that prevents women from achieving their full economic potential, regardless of their geography: globally, 75 percent of unpaid care is undertaken by women, i.e., women do 3-times as much unpaid work as men.

A Company in India recently announced 8-weeks paid paternity leave policy. We have companies who have gender neutral day care facility, parenting resource groups, single father leave of 26 weeks. It's a huge step for Corporate India to enable men to participate equally in child rearing duties. India is still a country where the woman is considered the primary care giver and the social ecosystem around her re-affirms that in many forms. Our whole eco system excludes men from child care – classes for mothers & toddlers, crèche facility for mothers, baby changing rooms within ladies' washrooms, stay-at-home fathers not being regarded favorably in & outside the family and the list goes on. As Corporate India, we have a duty towards enabling a change in the society. Until we reduce the burden of unpaid work on women, the latter will never be able to have a level playing field in the Corporate.

The above, by no means, is exhaustive but if we can do some or all of them well, it will enable a sweeping change in the Country and a hugely progressive step forward for Corporate India. It is increasingly becoming important for Organizations to play an active role in building, sustaining and changing the eco system around you. It's no longer just about the Company and its profits. We all have a larger role to play and I sincerely hope, in our small ways, that we can bring about a huge difference.