Driving the Business Forward with Human Capital Management
By Suresh Rai, VP HR, Unilever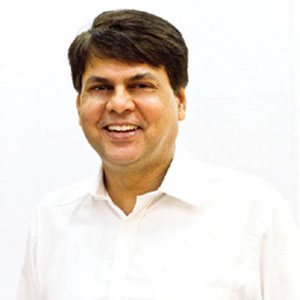 Suresh Rai, VP HR, Unilever
The Disruption
Should Charles Dicken revisit the world today, he would likely again say "these are the best of the times and the worst of the times"; best for those who see opportunity in huge change and uncertainty, and worst for those who sometimes get disheartened and paralyzed.
The business environment is more VUCA than ever before. Staggering technological changes are disrupting all domains. Artificial Intelligence, Internet of Things, Drones, and Flying Taxis which did not exist before have become commonplace buzzwords. We are seeing more manifestations of these changes in our daily lives, from seeing autonomous cars on roads in Singapore to encountering a real robot delivering food to a UC Berkeley student in San Francisco.
For the businesses, these technological shifts combined with other social, political, economic, and demographic changes are making a heady mix of cocktail. Previously high entry barriers to businesses are being dismantled by cheaper, on-demand availability of capital and capabilities, which has resulted in the creation of millions of start-ups gobbling up the bread-and-butter of traditional large companies. Companies are also expected to do much more for the society than ever before, contributing to solving some of the biggest social challenges such as global warming, single-use plastics or simply higher standards of corporate governance.
Studies from different institutions are singing the hymn of change and sounding alarm bells of potential significant human capital challenges with the following observations:
• Automation and AI, will displace around 70– 80 million jobs, but generate 130– 140 million new ones worldwide by 2022happening across different skills domains
• By 2020, there is a projected shortage of 12.3 million workers in APAC region
• Gig workers will constitute 50% of workforce in US in the next ten years
• Females only make up 22% of professionals with AI skills globally today
The advancement of technological platforms and big data analytics, amongst many other impending shifts, are creating huge possibilities in the world of consumer engagement. We can now gain micro-insights into personalized consumer needs, and tap on new and efficient ways of reaching out to our audience. A good understanding of these possibilities and capabilities by Human Capital Practitioners can directly turbo-charge growth in companies. Per law of equifinality, this article will explore some of these ways below.
Leadership & Succession
Identifying, developing and casting right leaders into the most impactful roles, also popularized as talent to value alignment, has and will always remain the most critical factor to driving growth.
In the past, leadership was viewed in a broader manner and leadership potential deemed as potential for a wide range of roles. These days, there is a much sharper view on leadership alignment to the present business need. Although a slightly generic approach can be taken for junior roles, for key senior roles, it is imperative to be particular and be conscious of the choices. For instance, the role may require one with a turnaround leadership profile, or a growth accelerator, or a PE profile leader. The same role may change over a period of time given today's context, therefore leadership succession slates need to be continually dynamic.
Capacity and Capability for Growth
There are two key challenges most organizations face when looking at organizational capacity and capability.
The first is on organizing for a fragmented world. Extreme fragmentation is everywhere and fast evolving, as seen in the need for personalized consumers experiences and varying employee experience needs of a multi-generational workforce. It is putting unprecedented pressure on traditional organizational structures which were designed for more static environment of post-war industrialization of 1950's and its more evolved cousin in a matrix organization, on how to organize.

Need, today, is of optimizing and managing capacity and capabilities needed dynamically, while balancing carefully with the cost of doing so and continuously prioritizing around value. The classical response of traditional organizations to fragmentation has been combining roles and having people do more, termed as double hatting, which soon becomes triple hatting or more. This has significant work life and wellness impact on the workforce.

The key here is to imagine reimagine workforce – amalleable drop of fluid rather than a traditional frozen pyramid, and a collective of fixed and on-demand capabilities performed by humans, robots, and/or programs.HR plays an essential role in orchestrating this workforce ecosystem.

A key enabler of workforce ecosystem is the ability to organize around work in is highly variable manner. Agile is a key methodology which helps in this situation. Organizations must make careful choices around this orchestration, considering all factors when deploying agile, and leveraging on the gig workforce and machines. An optimal mix, rather than a broad-brush approach, can help navigate challenges around capacity and capabilities needed.

The second is on building and equipping future-fit capabilities. Skills needed in majority of roles are changing at a fast pace of between 20– 40% each year, depending on the impact of technology and data on each role. Traditional marketers need to up skill to use massive amount of data and different technological platforms to gain consumer insights, develop targeted advertisements, and use targeted channels. The sales role, traditionally focused on customer relationship management, has evolved to encapsulate the need to perform analytics and pull data to identify variables that lead to demand pull, for instance.

These changes have significant implications on accelerated capability-building of workforce to be able to perform complex nature of work productively. This is being achieved is two main ways. Firstly, the quick hiring people in key capability areas. For example, an explosion of hiring people with digital or data capability, which has created an unprecedented shortage of already scarce digital talent in the marketplace. Secondly, the focus on up skilling of the existing workforce. This is being achieved via massive formal training programs, on-the-job trainings, or talent swap across complementary industries.

Today, the social implications of the displacement of jobs by automation is apparent. Governments have begun to step in to support the up skilling movement. One very notable effort is Singapore's SkillsFuture program, where it has helped to equip more than 285,000 Singaporeans with capabilities which enable them to remain competitive in the workforce.

A Growth Mindset Mindset Culture

The culture of each organization is unique to its strategy and structure and helps via engendering a growth mindset. The following are three notable focus areas that organizations are focusing on today.

Firstly, the Purpose. The individual, the company, and it's services/products and whether they are a force for good in society has become central to identity of a person or an organization. With employees spending large parts of their lives at workplace and contributing their creativity and energies to work, they are looking at work to play a significant role in fulfilling their personal purpose. Hence, it is critical for organizations to invest in training to help people understand their purpose and actualize it as best as they can within the company. Purpose discussion is now a key part of employee longer term career development plan.

Secondly, on Intrapreneurship & Empowerment. Today, millennials are hugely attracted to start-ups and smaller, nimble companies where they may feel more valued, empowered and are able to see the direct impact of their work.

Attracting people with demonstrated entrepreneurial capability into the company, or creating an enabling environment for internal entrepreneurship has become a dejeur for the companies. Companies have found that empowering local entrepreneurial teams has helped to drive growth via better leverage of local insights and more locally relevant products. Thus, decision-making has shifted significantly to teams and people closer to where real work or business is performed.

Besides training and calling out empowerment explicitly as a key behavior, organizations need to do much more. It is critical to structurally accelerate empowerment via reducing the number of layers within an organization, increasing leadership spans, and visibly moving resources from central regional head offices to actual work units.

Risk and Reward Equation

Reward is one of the most potent levers for enabling and directing people's and a team's behavior. It is pivotal to design a reward program that complements the desired outcomes. High growth entrepreneurial organizations see much larger proportion of variable pay, which is often in the form of equity. Today, traditional large organizations with the classical one-size-fits-all reward program have also been forced to create different reward structures for different teams, based on the risk reward profile, with incentives linked directly to growth achieved.